high quality manufacturing process
quality above the price
The secret of accessories that are resistant to rust and discoloration
Don't you think that it will discolor quickly because it is cheap?
Although the price is affordable
The secret to its resistance to rust and discoloration lies in the manufacturing process.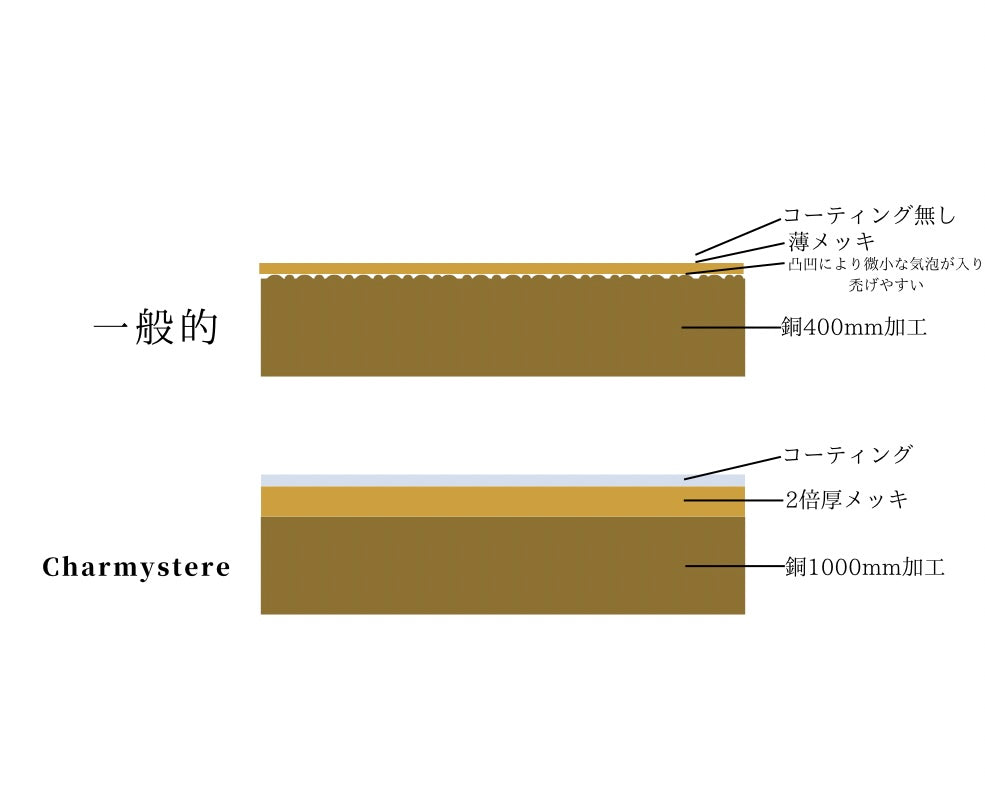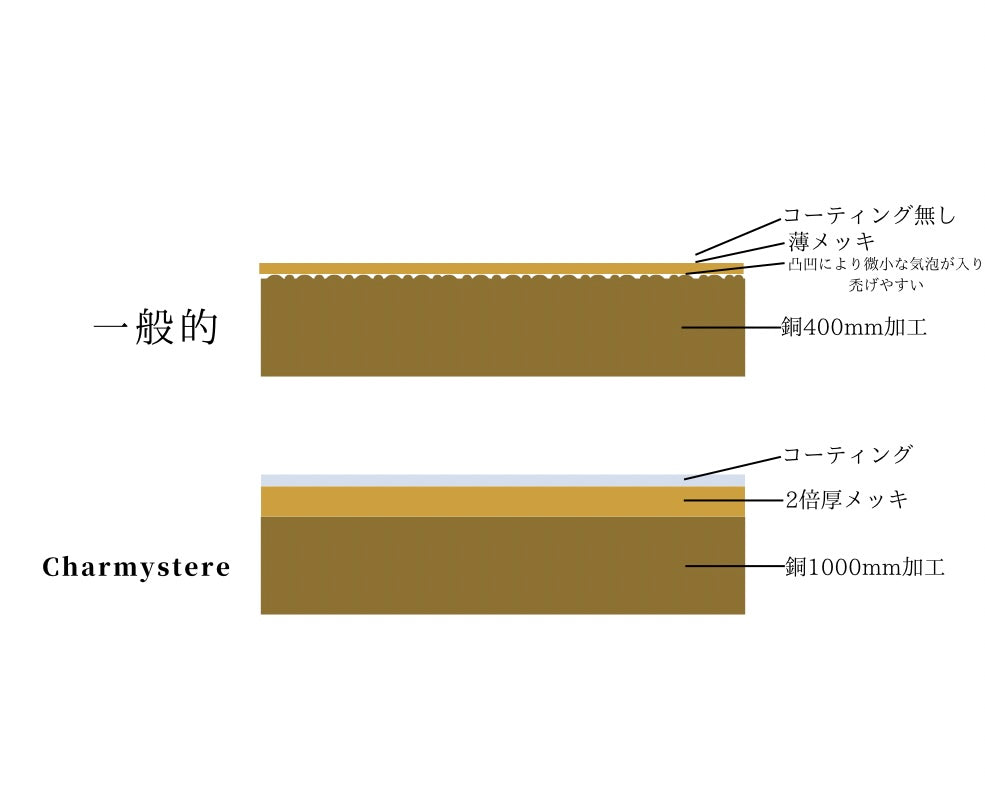 1. Processing process of the base metal
Use copper or silver925 instead of alloy
Most cheap accessory shops use alloys with low unit prices, but most of Charmystere's accessories use copper or silver925 .
Copper has good compatibility with plating, it is difficult to dissolve easily with sweat and water, and it is gentle on the skin.
The compatibility between copper and plating is good and it adheres better than alloys. Suppresses the causes of rust and discoloration.
Polishes metal surfaces 2.5 times more than usual
The base mold is usually 400mm, and the Charmystere item is 2.5 times as large as 1000mm .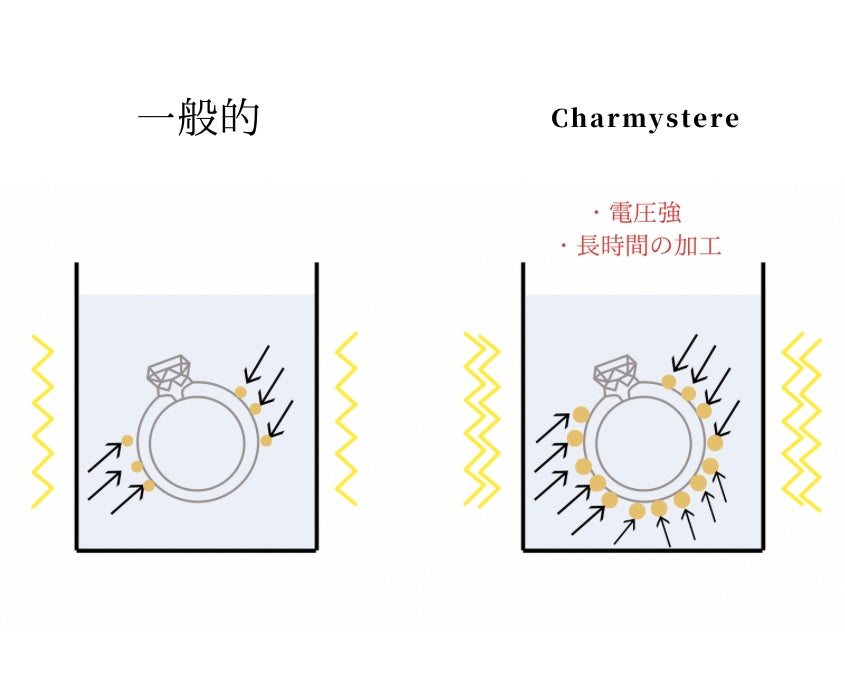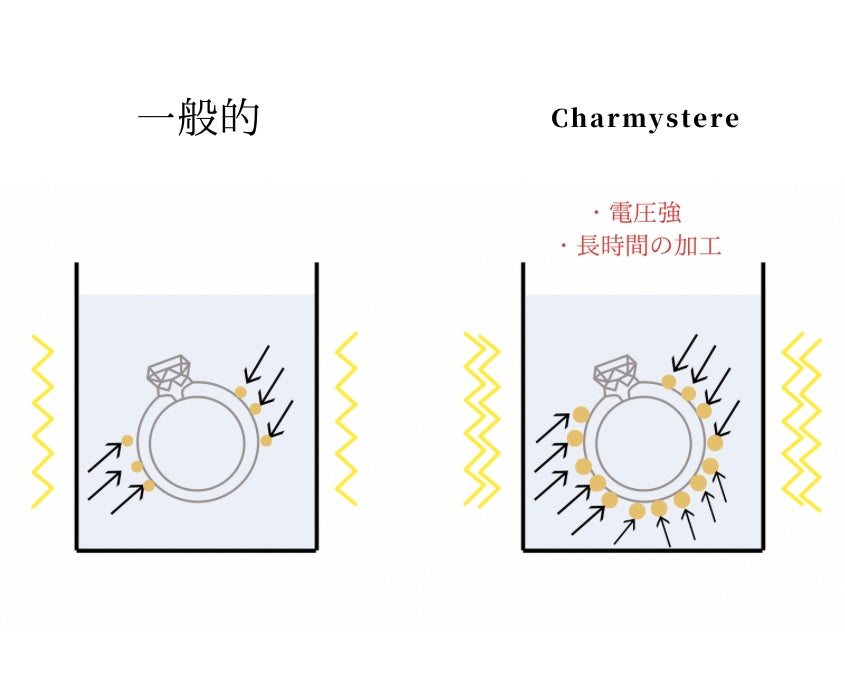 2. Thick plating
Uses pure gold plating
Most of Charmystere's items use a minimum of 14k, many of which use 18k, and a maximum of 24k.
High adhesion by applying high electric pressure
By increasing the electric pressure and plating (coloring), it is highly adhered and difficult to bald.
Plating processing twice as thick as general
By soaking it for a long time, it is processed to 0.05mm , which is more than twice the normal plating layer of 0.023 to 0.025mm.
A little effort to make the plating less bald
remove excess plating
After plating, it is washed with purified water to remove excess plating, making it even more difficult to get bald and fall off .
In the case of small-price accessory shops, this process may be skipped as they focus on efficiency.
4. Apply a coating for the final finish
Do not expose the plating directly to air or moisture
No matter how thick the plating is, contact with air and sweat will cause discoloration and rust. However, Charmystere applies a coating at the end to prevent direct contact with air, sweat, and water.